The GLOSSary
Sit, stay—learn with us!
You're an A+ dog parent.
Dog parenthood is an oftentimes messy, always fulfilling journey. It's a daily learning process for everyone in the family. The more you learn, the closer the bond! We've compiled mini-lesson plans to help you learn more about living your best life with your best friend.
Want bragging points?
Take our super-short pawp quizzes afterwards to test your knowledge of dog grooming, skin, and coat care. (Paw-fect scorers also receive treats!)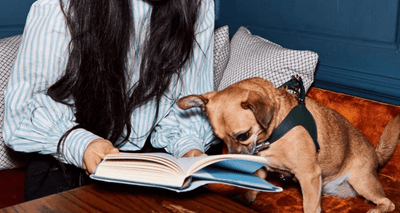 Are dogs actually fur babies?
Dog skin is as thin as–and can be thinner than–baby skin.
Dog skin thickness ranges between 0.5 mm and 5mm, while infant skin ranges between 1.24 and 2.60 mm. This means that the average thickness of dog skin is as thin as baby skin!
Peer reviewed by:
Heo, S., Hwang, T., & Lee, H. C. (2018). Ultrasonographic evaluation of skin thickness in small breed dogs with hyperadrenocorticism. Journal of veterinary science, 19(6), 840–845. https://doi.org/10.4142/jvs.2018.19.6.840
The canine epidermis, which is the top layer that protects against environmental aggressors and irritants, is thinner than the human epidermis
Epidermal thickness of dogs is estimated to be 0.04 mm, which is thinner than the skin on a human's eyelid (one of the most sensitive and delicate areas of our own skin!). For example, one of the layers of the epidermis is the stratum spinosum–for dogs, this layer is 1-2 cells thick, while for humans, this layer is up to 4 cells thick! In total, dog skin is only 3 to 5 cells thick, while human skin ranges from 10 to 15 cells thick.
Peer reviewed by:
Theerawatanasirikul, S., Suriyaphol, G., Thanawongnuwech, R., & Sailasuta, A. (2012). Histologic morphology and involucrin, filaggrin, and keratin expression in normal canine skin from dogs of different breeds and coat types. Journal Of Veterinary Science, 13(2), 163. https://doi.org/10.4142/jvs.2012.13.2.163
Dog skin cell turnover is faster than human skin cell turnover.
While the actual rate of skin cell turnover varies per dog (dependent on genetics, environment, and protein and lipid turnover), the longest duration of skin care turnover is 20 to 21 days, though it can be even longer if the skin is damaged or infected. This means that in order to see results from a full skin-and-coat routine, you need to be consistent for at least three weeks.
Peer reviewed by:
Hwang K. (2013). Surgical anatomy of the upper eyelid relating to upper blepharoplasty or blepharoptosis surgery. Anatomy & cell biology, 46(2), 93–100. https://doi.org/10.5115/acb.2013.46.2.93
Like babies with adorable fat rolls that develop rashes, dogs with fat rolls, such as Pugs and Basset hounds, can suffer from irritation and infection in the wrinkle folds.
We love our wrinkly dogs–and unfortunately, so does bacteria! Skin fold dermatitis, aka intertrigo or a form of surface pyoderma, can develop in the pocket of skin between folds because the moist and warm environment is the perfect home for microbes to thrive, leading to infection and unpleasant smells! This can easily be prevented by daily cleanings and dryings of the skin folds.
Peer reviewed by:
Hwang K. (2013). Surgical anatomy of the upper eyelid relating to upper blepharoplasty or blepharoptosis surgery. Anatomy & cell biology, 46(2), 93–100. https://doi.org/10.5115/acb.2013.46.2.93
Because dog skin is just as thin, delicate, and sensitive as infant baby skin, they are indeed fur babies–according to science.
What's the difference between fur and hair?
Contrary to popular belief (and some pet grooming marketing claims), hair and fur are interchangeable.
Sometimes, it is mistaken that single-coated dogs have hair, while double-coated dogs have fur. In actuality, the genomic structural composition is the same.
Peer reviewed by:
Whitaker, D. T., & Ostrander, E. A. (2019). Hair of the Dog: Identification of a Cis-Regulatory Module Predicted to Influence Canine Coat Composition. Genes, 10(5), 323. https://doi.org/10.3390/genes10050323
Hair loss is common for both dogs and humans.
For dogs, alopecic patches usually appear on the face and head, extending as far as the legs. Dachshunds are the breed most predisposed to pattern baldness development in similar ways to humans.
Peer reviewed by:
Scarampella, F., & Roccabianca, P. (2018). Alopecia Areata in a Dog: Clinical, Dermoscopic and Histological Features. Skin appendage disorders, 4(2), 112–117. https://doi.org/10.1159/000479781
Dogs, in particular Dachshunds, can also get split ends!
In a micro-metric, microscopic, and macroscopic hair analysis of 42 dogs of different breeds, only the Dachshund displayed split ends. However, the researchers also noted that they did not always find significant differences between breeds.
Peer reviewed by:
Vaishnav, L., Parashar, S., Kumar, A., & Sachdeva, M. P. (2021). A study on hair analysis of different Canidae breeds. Forensic Science International: Reports, 3, 100169. https://doi.org/10.1016/j.fsir.2020.100169
Put the "hair" of a single-coated dog and the "fur" of a double-coated dog under a microscope, and you won't find significant structural differences. They are the same thing. Prioritise pet grooming products that benefit the skin and hair follicles for a naturally healthy coat.